March 9, 2020
Posted by:

admin

Category:

Press Releases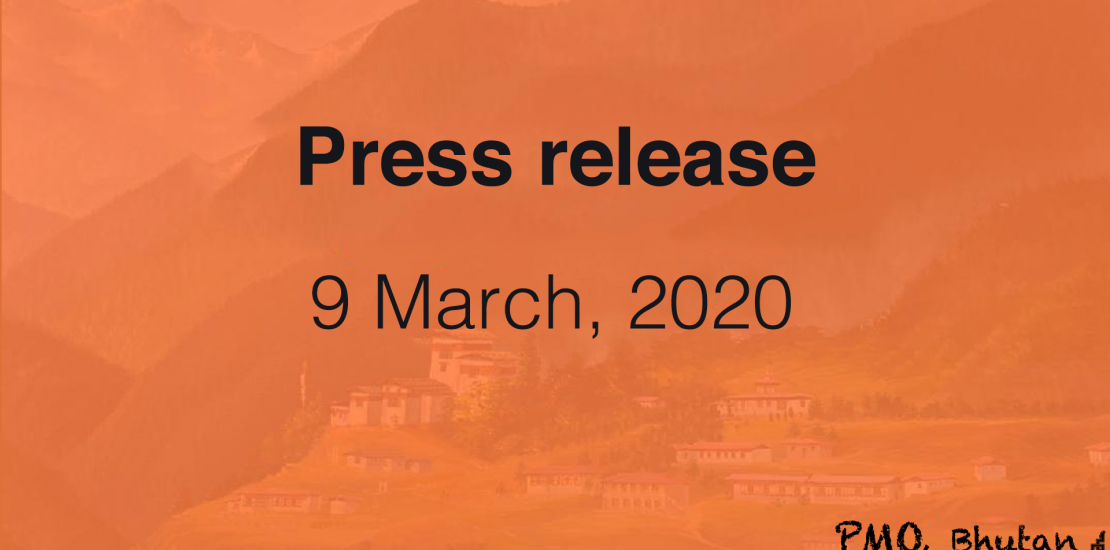 March 9, 2020
Press Release: Comprehensive response plan for coronavirus
 The government has started working on comprehensive response plan, should the consequences of coronavirus in the country stretch for longer period.
While the health ministry continues with response efforts, following detection of first COVID-19 case on March 5, different agencies have been encouraged to prepare and strategise interventions, both immediate and long term.
In separate meetings with Gross National Happiness Commission and Royal Civil Service Commission, the prime minister asked the agencies to have plans in place should the country enter into "red zone" which calls for complete lock down.
"While everything is under control for now, our plans and programs are designed for untroubled times," prime minister Dr Lotay Tshering said. "But we should also be looking at reprioritising our activities and budget should the situation worsen."
The two agencies have been asked to ensure that meetings and travels are carried out strictly to propel critical activities, while routine ones could wait.
With tourism sector likely to suffer, activities will have to be prioritised that serves to stimulate economy.
"Our measures should also pay a lot of attention on welfare of those thousands of young people working in service sectors, who could go jobless overnight," prime minister said.
Government has already formed a multi-sectoral taskforce to develop Economic Response Plan that will shield our economy from taking major hits due to the consequences of coronavirus.
Ministry of Finance, Ministry of Economic Affairs, Royal Monetary Authority, financial institutions, Bhutan Chamber of Commerce and Industry, and National Statistics Bureau are studying possible impact on domestic economy and exploring measures to minimise implications.
Government is looking at specific sectors like hospitality, trading, transportation, construction and employment, among others. Also, with uncertainty over restriction of labour, construction industry could consider replacing with local workforce to make up for the shortage.
Agriculture ministry is also working towards ensuring adequate food reserve and to develop procedures to prevent hoarding. Among others, economic affairs ministry is expected to enforce price control mechanism effectively.
Meanwhile, the prime minister has also expressed concerns about possible compromises on routine health services, with all focus drawing on COVID cases.
"Our health system is already stretched thin, so we should be careful our non-COVID services are not hampered," he said.