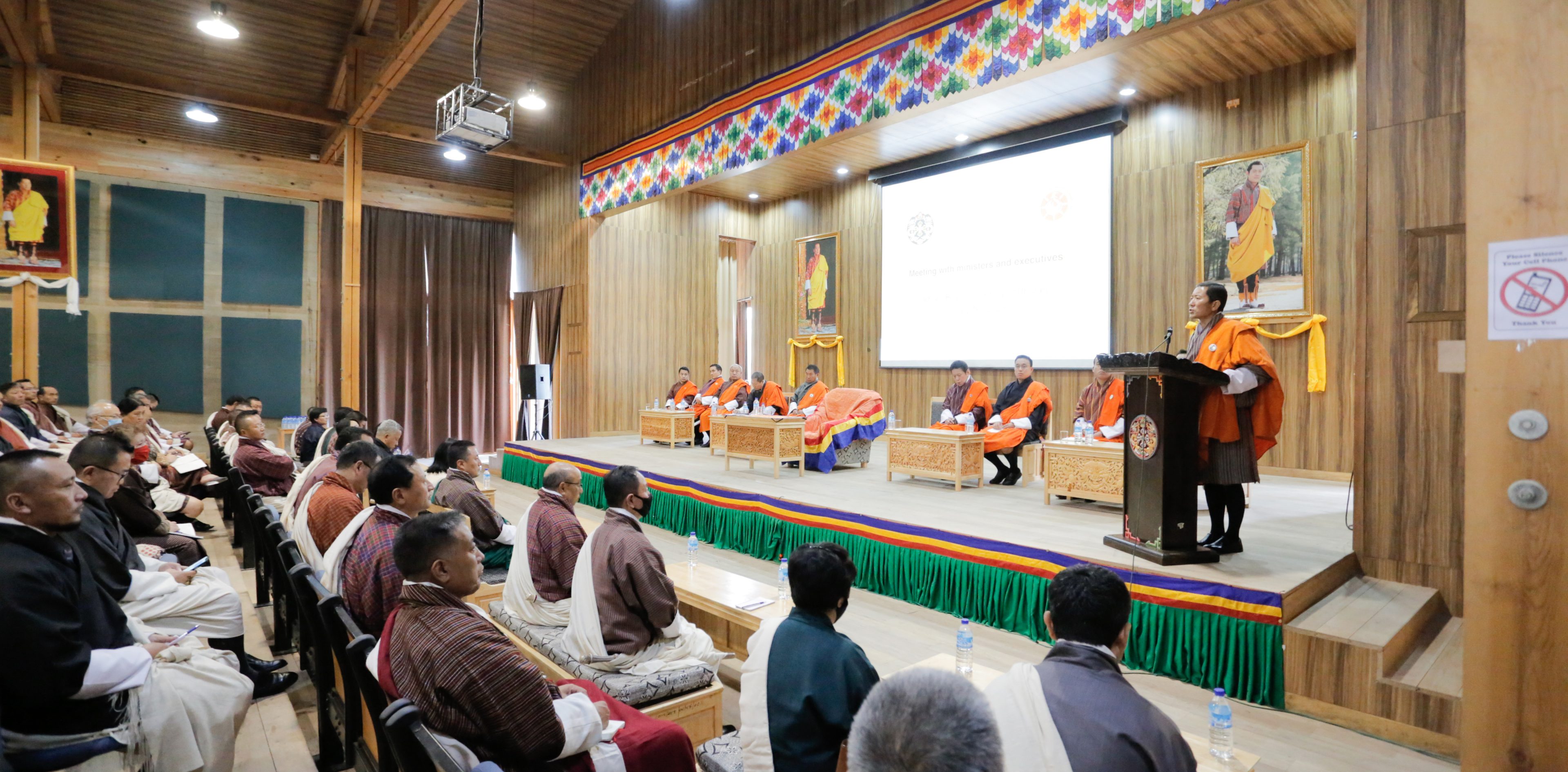 Drawing inspiration and guidance from His Majesty The King during the recent tour of the eastern districts, and to improve coordination and communication across the board, Prime Minister Dr Lotay Tshering met with the ministers, heads of constitutional bodies and senior government officials.
His Majesty The King arrived in the capital yesterday. Alongside His Royal Highness the Gyaltshab, the chairperson of National Council and the prime minister were also a part of the entourage.
Prime minister said he sought the opportunity to share the royal wisdom and experiences from the field with the colleagues in the government who were all working together to see the nation through the pandemic.
He said His Majesty's relentless efforts to protect the nation from the disease and its detrimental consequences were visible in the peaceful lives people lived in the districts, beaming with gratitude and prayers for His Majesty.
"Complementing His Majesty's initiatives are the hard work of the task force members, dzongdas and frontline workers who were abreast with every detail and guarding every inch of the districts," he said.
Highlighting the concerns of His Majesty, prime minister said although Bhutan has embraced the highest level of preventive measures, the health emergency rippling into economic crises, which in turn could prompt social discord should the situation worsen, was more worrying.
Delving into the grave economic scenario, prime minister said close to 30,000 Bhutanese were in want of jobs, including those affected by the pandemic and others returning from abroad adding to the unemployment pool. Despite the shrinking revenue, prime minister said all possible schemes are activated to keep the economy afloat and save as many jobs.
Elaborating the interventions, prime minister talked about His Majesty's Relief Kidu that have saved livelihoods of more than 14,000 families, and the Economic Contingency Plan covering broad areas of tourism, agriculture and construction sector under the Build Bhutan project, among many others.
A monthly exercise will be held among officials of GNH, finance ministry and Prime Minister's Office to analyse budget allocations and to ensure prudence. Works are also underway to prepare the second series of Economic Contingency Plan.
Speaking on wide range of pertinent issues, prime minister urged everyone in the hall, comprising highly responsible and qualified individuals to communicate, coordinate and work together for effective response to the challenges the country is presented with today.