July 19, 2020
Posted by:

admin

Category:

Press Releases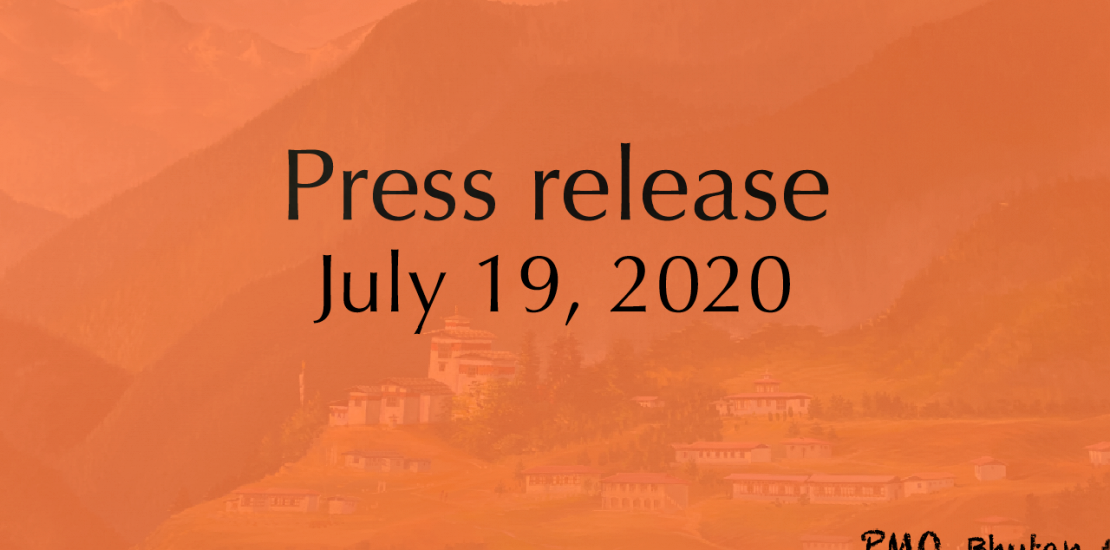 Press release
This weekend spelt one of the busiest days for our health workers and law enforcement officials. It also heightened concerns. His Majesty commanded an emergency meeting among all stakeholders, personally chairing and participating in the important discussion.
It also involved conducting more COVID-19 tests and contact tracing of individuals ranging from villagers in Samtse to the staff of national referral hospital in Thimphu.
All these emerged from the individuals who resorted to enter the country through informal channels.
Of the latest cases, one was a resident of Rinchenphu village under Yoeseltse gewog who had entered the country on July 16. The man was working in Jaigaon, India since March, and had visited two homes since he arrived, coming in contact with about eight people.
The other was the confirmation of a report of a man who entered Thongzom village in Samtse in May, and had recently travelled with his wife to the national referral hospital in Thimphu for maternity reasons.
All tests on the primary suspects and contacts are negative. The men are arrested and will be dealt as per the law. The contacts have been advised home quarantine. We are lucky this time. But for how long?
Everyone is aware, the acts are not only in conflict with law, but detrimental to the country's efforts of combating the spread of coronavirus in the communities. Such undesirable developments weigh heavy, not just on our resources, but our strength and spirit as the nation put up the fight against this pandemic.
Therefore, we once again appeal to everyone to cooperate and support our frontline workers.
We call upon all literate Bhutanese who read this message on various media platform to talk to their relatives and loved ones in the villages. All local leaders and Parliament representatives are urged to reach out to our people in the grassroots.
Tell them about the risks of such covert moves of individuals that could bring unimaginable devastation to the country. If there are family members or relatives across the border who wish to return, please direct them to relevant authorities who will facilitate and ensure proper procedures for entry to the country.
Please let them know that it is His Majesty's wish and command to have every Bhutanese back home in times of pandemic like this. We will do all it takes to bring them back home, but we need to know first. For this, we need your support.
Please explain to them that quarantine facilities are government sponsored and ensures best of care and comfort, while screening for the disease.
Under His Majesty's leadership, we have come this far in securing the safety of our people from the disease. It is only in the collective effort that we will be able to see through this trouble times. Let us rededicate our commitment, redefine our determination and work together.
From the Prime Minister
PMO, Bhutan