January 19, 2022
Posted by:

admin

Category:

News, Notice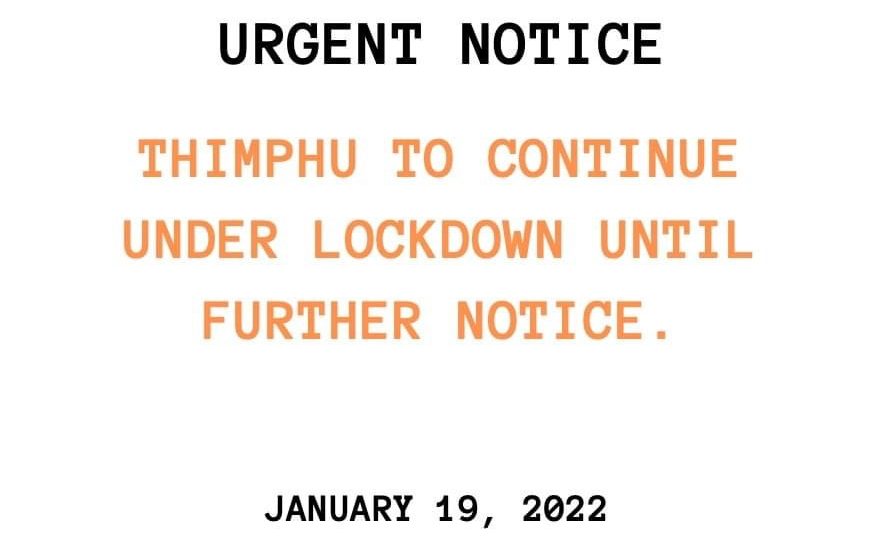 𝐔𝐫𝐠𝐞𝐧𝐭 𝐍𝐨𝐭𝐢𝐜𝐞
𝐉𝐚𝐧𝐮𝐚𝐫𝐲 𝟏𝟗, 𝟐𝟎𝟐𝟐
As you all are aware, we have initiated another round of sample collection and testing for COVID-19 in the 14 dzongkhags today.The outcome of the testing will determine the way forward after the 72 hours lockdown within the zones, which comes to an end early tomorrow.
However, please note that it cannot be applied to Thimphu, given the recent developments. The upsurge of community cases in many parts of the country, the highly infectious nature of omicron, the size of the population in Thimphu, and the frequency of interactions with the high-risk zones and potential exposure, all aggravate the situation for the capital city.
The risk assessment at this stage could potentially miss out some pockets in Thimphu, particularly those that are in virus incubation period.
Therefore, the capital city will continue to remain under lockdown until January 22. The present practice of megazone movements and all other restrictions will prevail until then.
While we apologise for the inconveniences, our standards of disease elimination mode propel us to take this measure that will help us achieve disease-free community. Should we unlock in haste, the outcome could be far more devastating. But we know that we have your support and cooperation always.
Another round of screening will be carried out on January 22 to comprehend the risk level for Thimphu. Meanwhile, the health ministry is asked to gradually withdraw the ongoing tests for Thimphu residents today, but the samples collected so far will assist in monitoring the situations closely.
We will update the nation on the outcomes of the testings, as soon as possible.