January 24, 2022
Posted by:

admin

Category:

Notice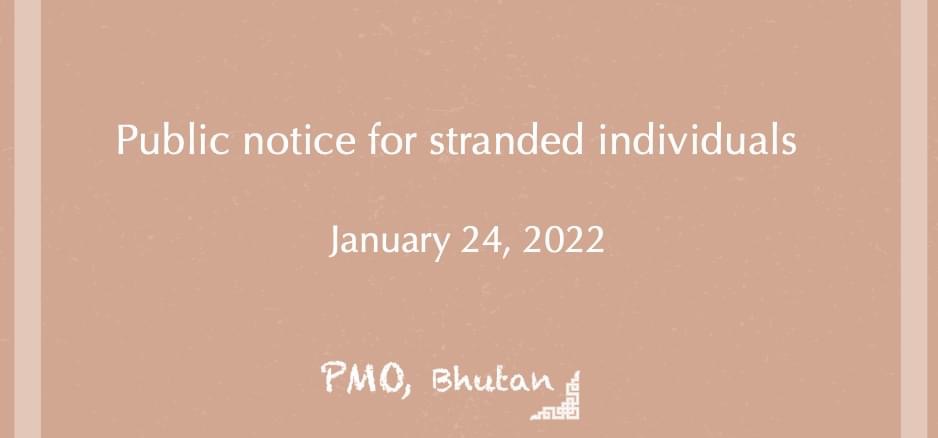 𝐏𝐮𝐛𝐥𝐢𝐜 𝐧𝐨𝐭𝐢𝐜𝐞 𝐟𝐨𝐫 𝐬𝐭𝐫𝐚𝐧𝐝𝐞𝐝 𝐢𝐧𝐝𝐢𝐯𝐢𝐝𝐮𝐚𝐥𝐬
𝐉𝐚𝐧𝐮𝐚𝐫𝐲 𝟐𝟒, 𝟐𝟎𝟐𝟐
All the stranded individuals in Thimphu are requested to register with 1010 HelpDesk and visit the testing centres in the respective megazones specified below, starting tomorrow (January 25). Please access https://www.1010.bt/epass/apply/ for movement within the megazones.
You are required to undergo RT-PCR test, following which the HelpDesk, in coordination with RCDC will verify the results and facilitate movement pass. Please note that it will take at least one day to process the RT-PCR tests.
For individuals without private cars, the 1010 HelpDesk will link with the RSTA to arrange buses phase-wise to various destinations. Before that, the HelpDesk will also ascertain that stranded cases are genuine, since inter-district travels are not allowed.
As for those stranded in other dzongkhags, respective taskforces will facilitate.
As communicated earlier, movement from green to another green dzongkhag or area will require negative antigen test. Those exiting yellow areas, like the Thimphu core, will undergo RT-PCR. Should there be high risk groups in the yellow areas, the local taskforce will decide on the quarantine requirements. For those in the red areas and dzongkhags, seven-day quarantine is mandatory.
𝐓𝐡𝐞 𝐭𝐞𝐬𝐭𝐢𝐧𝐠 𝐜𝐞𝐧𝐭𝐫𝐞𝐬 𝐢𝐧 𝐓𝐡𝐢𝐦𝐩𝐡𝐮 𝐦𝐞𝐠𝐚𝐳𝐨𝐧𝐞𝐬 𝐚𝐫𝐞 𝐚𝐬 𝐟𝐨𝐥𝐥𝐨𝐰𝐬:
𝐍𝐨𝐫𝐭𝐡: 𝐁𝐚𝐛𝐞𝐧𝐚 𝐟𝐨𝐨𝐭𝐛𝐚𝐥𝐥 𝐠𝐫𝐨𝐮𝐧𝐝, 𝐚𝐛𝐨𝐯𝐞 𝐁𝐎𝐂 𝐡𝐚𝐥𝐥
𝐂𝟏: 𝐂𝐡𝐚𝐧𝐠𝐥𝐢𝐦𝐢𝐭𝐡𝐚𝐧𝐠 𝐟𝐨𝐨𝐭𝐛𝐚𝐥𝐥 𝐬𝐭𝐚𝐝𝐢𝐮𝐦
𝐂𝟐: 𝐂𝐡𝐚𝐧𝐠𝐣𝐢𝐣𝐢 𝐟𝐨𝐨𝐭𝐛𝐚𝐥𝐥 𝐠𝐫𝐨𝐮𝐧𝐝
𝐒𝐨𝐮𝐭𝐡: 𝐀𝐫𝐜𝐡𝐞𝐫𝐲 𝐫𝐚𝐧𝐠𝐞, 𝐧𝐞𝐱𝐭 𝐭𝐨 𝐭𝐡𝐞 𝐓𝐫𝐮𝐜𝐤 𝐩𝐚𝐫𝐤𝐢𝐧𝐠 𝐚𝐫𝐞𝐚