January 29, 2022
Posted by:

admin

Category:

Notice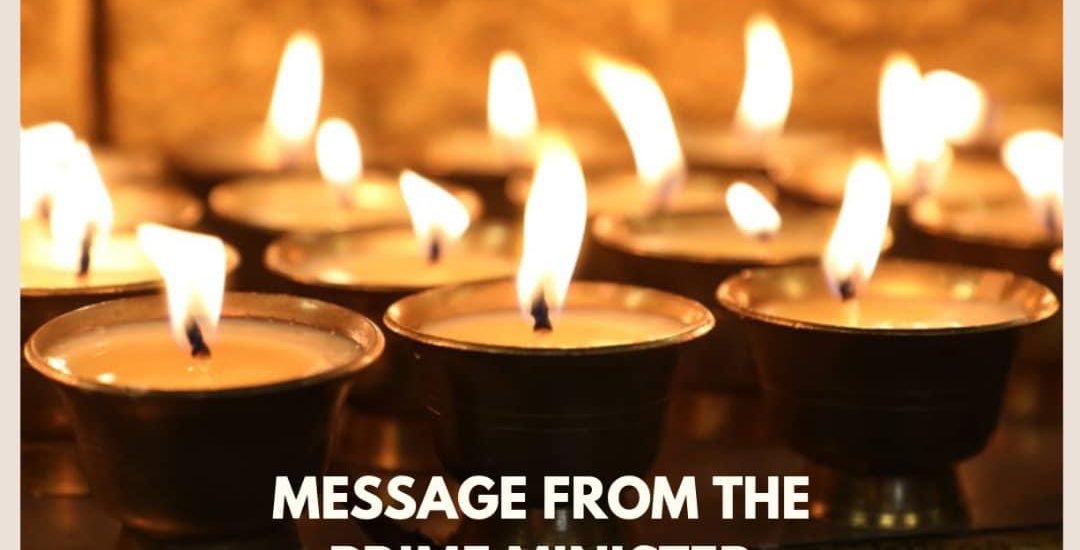 Dear friends,
We were shot with another dose of reality yesterday. Right in the middle of the battle, it felt like a bullet-hit to learn that one more precious life died with COVID-19. She was a chronic kidney patient on dialysis. I grieved with the nation and continue to offer my prayers for our dear friend.
I am also struck with the thought that our feeling at such development is barely a drop, in comparison to the ocean of grief that must have overcome His Majesty, who feels boundless compassion for his people.
Believing that we must and can save every Bhutanese from COVID-19, we are putting up a relentless fight. But yesterday was a bitter reminder that we need to do more. It could have been anyone of us, or one of our family members.
In every sense, we are fighting one of the biggest battles of the pandemic today. We saw the one-day highest cases yesterday, 205, since our first record of the disease in March 2020.
We are dealing with a variant that spreads 32 times faster than the novel coronavirus reported in 2019, and almost 105 percent more transmissible than Delta variant, according to some studies. Everyone by now says that though the Omicron virus spreads faster, its severity is far lesser. That could be true but how much chances are we willing to take?
Close to 130,000 children below 12 years are unvaccinated. We have to think about our parents and grandparents. More than 56,000 of our population are in the vulnerable group of above 65 years. And more than 90,000 people are with co-morbidities.
While we seek to downplay the severity, are we ready to put some of our family members as wagers? If we allow the wave to sweep us, we are indirectly saying we are ready to sacrifice the vulnerable sections of our population. Isn't the inconvenience today far milder than the agonising pain of losing a loved one?
In other countries, the success rate is measured by the decreasing number of hospital admission, those on ventilation and the number of deaths. The measuring yards are different from ours. Our motivation is to eliminate the disease because we cannot afford to lose our people to something that is preventable. His Majesty has set high standards for us.
People must also know that most hospitalisation and deaths to Omicron are the unvaccinated ones. We are going all out to procure the paediatric vaccines for our children, and we are confident that it will happen very soon. But at the same time, we have more than 8,500 individuals above 12 years who have not come forward to take the vaccines.
There will come a moment when we have to relax all the COVID-19 norms. At that time, the risk of losing lives persist and it will be the unvaccinated ones who will be at risk, for themselves and the larger circle around them. It is also a fact that losing lives to COVID-19 will remain forever, and the unvaccinated lot will be the ones endangered at all times.
Therefore, I urge those who haven't taken the vaccine to come forward now. Please don't wait because we have the opportunity to reduce risks of COVID-19 today.
We are also ensuring booster doses for everyone. While we have covered the target groups, it will be made available to all soon after the lockdown.
At this moment, we are carrying out series of mass screening in the 14 districts that will give us a sense of disease spread based on which we will be able to decide the way forward. It is heartwarming to learn that everyone is coming forward for the tests.
It is truly a challenging phase for the nation. More than ever before, we must think and act as one under His Majesty, who is tirelessly ensuring that we don't stumble on the rough grounds of the pandemic.
As stated earlier, this time, we are in one of the biggest battles of the pandemic so far. If our energy, enthusiasm and unity are any lesser than the previous lockdowns, it will be a long-drawn process.
We won the battle against the Delta wave last year. But if we give into the Omicron claiming it is milder, what about the other potential waves from the newer emerging variants? Will we keep sacrificing a few more precious lives to every new wave and every new variant? Irrespective of the severity, the ultimate truth is that there are fatalities and we do not want to go there.
Now is the time to be true to ourselves! No matter how long it lasts, we will fight till the end.
With prayers for the millions of lives lost around the world this pandemic,
Dr Lotay Tshering