February 12, 2022
Posted by:

admin

Category:

Press Releases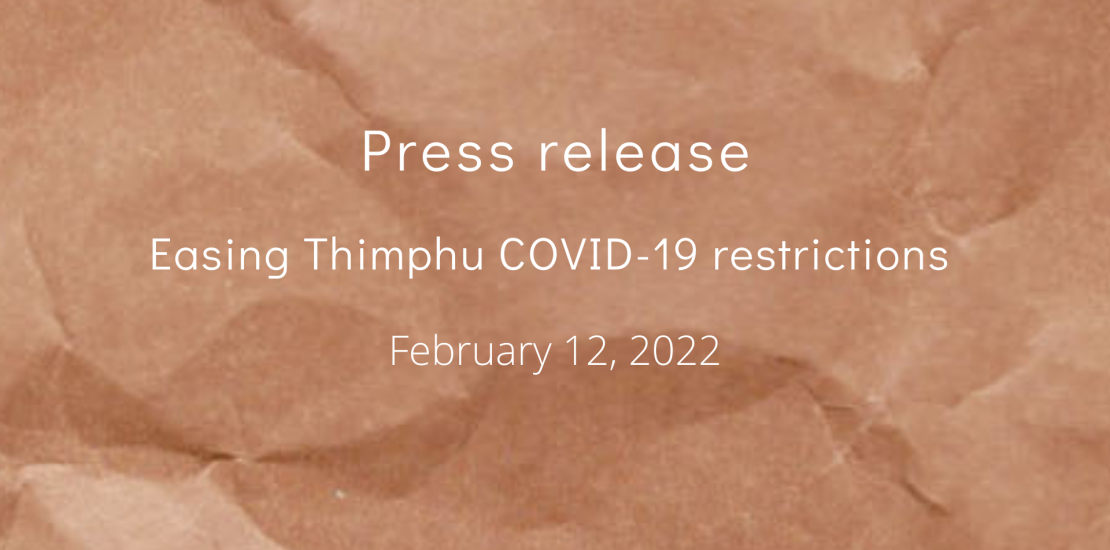 𝐏𝐫𝐞𝐬𝐬 𝐫𝐞𝐥𝐞𝐚𝐬𝐞
𝐄𝐚𝐬𝐢𝐧𝐠 𝐓𝐡𝐢𝐦𝐩𝐡𝐮 𝐂𝐎𝐕𝐈𝐃-𝟏𝟗 𝐫𝐞𝐬𝐭𝐫𝐢𝐜𝐭𝐢𝐨𝐧𝐬
𝐅𝐞𝐛𝐫𝐮𝐚𝐫𝐲 𝟏𝟐, 𝟐𝟎𝟐𝟐
After ascertaining the COVID-19 spread in Thimphu through the mass screening over the last four days and upon sealing the areas that saw positive cases and primary contacts, the National COVID-19 Taskforce is pleased to inform all on the further opening of the capital town.
More than 30,800 samples were collected from every home in the four mega-zones and the test results are reassuring. The disease presence is mostly in clusters and not widespread, fortunately. This gives us the confidence to go ahead.
We have come this far under His Majesty's precious guidance, the concerted actions of all officials and frontliners, and of course the consideration of the residents who abided by the restrictions despite sheer inconvenience.
For Thimphu, the smart lockdown with movement within the four mega-zones has helped us study the epidemiological status over the weeks and intervene accordingly. We are constantly guided by the health Technical Advisory Group and Surveillance unit.
It has also slowed the spread of Omicron, especially with national festivals like Traditional Day of Offering featuring in between, which could have fuelled the infection.
The Thimphu relaxation comes at a time when some districts are still battling with incessant outbreaks. Wangduephodrang, Punakha, Phuentsholing, Samtse, Nganglam, Gelephu, Samdrupjongkhar and Tsirang are still in the "red" and dealing with fresh cases daily. Many areas have encouragingly progressed into green and yellow status in recent days.
Local and regional taskforces are working closely with the people in the communities to contain the outbreak.
Please be mindful that the country is still dealing with pockets of outbreaks, and the fight against the pandemic is far from over. Likelihood of regressing into far more disastrous situation is an unpleasant fact we cannot deny, if we are not cautious at this stage.
Therefore, progressive reopening is being considered to allow activities to resume, while enhancing health surveillance and limiting the resurgence of new COVID-19 cases in the community. But in all these, individual responsibilities will have the major role in swaying us towards the desired outcome of public safety.
Following relaxations are being announced 𝐟𝐨𝐫 𝐭𝐡𝐞 𝐫𝐞𝐬𝐢𝐝𝐞𝐧𝐭𝐬 𝐨𝐟 𝐓𝐡𝐢𝐦𝐩𝐡𝐮 𝐰𝐢𝐭𝐡 𝐞𝐟𝐟𝐞𝐜𝐭 𝐟𝐫𝐨𝐦 𝟓𝐚𝐦, 𝐅𝐞𝐛𝐫𝐮𝐚𝐫𝐲 𝟏𝟑, 𝟐𝟎𝟐𝟐:
Movement
1. Movement of people within and out of Thimphu is allowed. Use of cars are being permitted.
2. For further risk assessment, an RT-PCR with three days validity is mandatory for those travelling out of Thimphu, until the end of the month (February 28). Testing will be available all through at flu clinics in respective mega-zones and we request people to avoid rushing.
3. An e-pass and CPMS registration are prerequisites before moving out of Thimphu. Please reach out to 1010 via the weblink or phone call.
4. Those taking a day trip to Thimphu from nearby districts need not have RT-PCR test results, and the RBP will monitor the movement via CPMS.
5. Public transports such as busses and taxis can operate. Druk Trace app is mandatory in all public transports and proper COVID-19 measures must be enforced.
6. All drivers ferrying public goods must have an RT-PCR negative with a validity of one week.
Offices and institutions
1. All offices can commence from Monday, February 14.
2. The schools and institutions will reopen as per the notification from education ministry and respective organisations.
3. All offices must identify focal persons and reinforce all COVID-19 protocols.
4. Meetings are allowed but workshops and trainings where people from different agencies congregate are disallowed until further notice. Wherever possible, everyone is encouraged to resort to virtual arrangements.
Business entities
1. Shops and restaurants are allowed to operate at 50 percent capacity or a maximum of 50 heads, whichever is lower.
2. The closing time for all business entities is 7pm until further notice.
3. High risk entertainment centres like clubs, karaoke, pubs, discotheques and movie halls will remain closed until February 28.
4. There are reports of many illegal bar-like businesses being operated at homes and private spaces. Since gathering of all sorts is disallowed, this will be seriously monitored. If caught, they will be charged for Breach of Public Order and Tranquility under section 448 of the Penal Code of Bhutan.
Sports
1. Only outdoor sporting activities are allowed without spectators. Indoor sports will remain closed for risk assessment until February 28.
2. For archery, a maximum of 10 participants are allowed at a given time.
Constructions and industries
1. All constructions are allowed.
2. Industries and factories must work in containment mode until the end of the month.
Gathering and social events
1. Gathering of all sorts are not allowed.
2. Religious activities like lochoe and rimdros at home must be limited to family members with not more than 10 religious personnel.
3. Funeral rites must be maintained at a maximum of 20 people.
Red buildings and clusters
1. There are about 30 red buildings and clusters that are being secured with security tapes, and RBP and Desuups closely monitoring on the ground. We urge everyone to refrain from visiting those areas until it's declared risk-free.
As we issue this notification, His Majesty is in Gelephu ensuring that the battle is fought with utmost diligence and disposition. His Majesty has shown us that the nation comes first, no matter what. Until the pandemic is behind us, we will not rest and strive to push past the daunting task every minute, every hour.
In all this, we are thankful to everyone for playing your part. Our solidarity is our biggest strength. This is what defines us as Bhutan and we will triumph together.