March 15, 2022
Posted by:

admin

Category:

Press Releases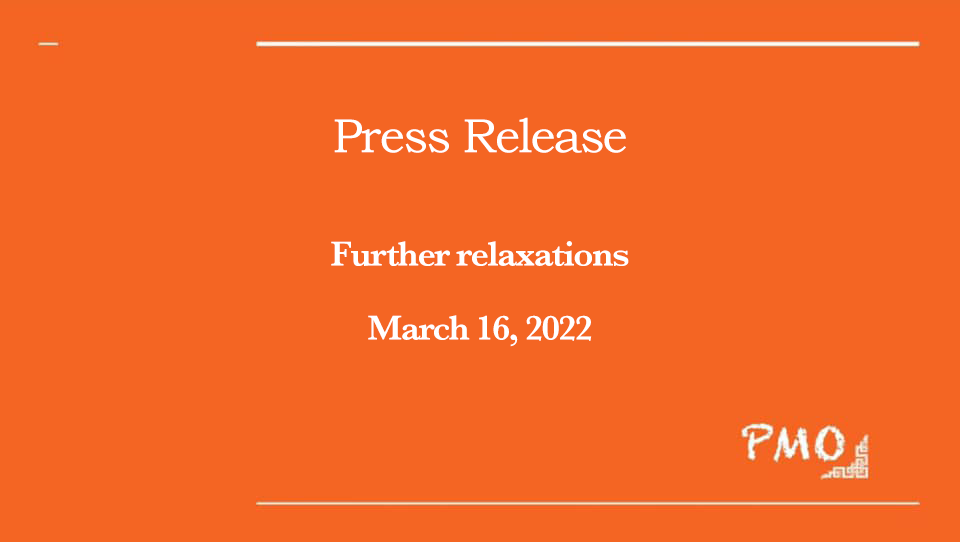 𝐏𝐮𝐛𝐥𝐢𝐜 𝐍𝐨𝐭𝐢𝐜𝐞
𝐌𝐚𝐫𝐜𝐡 𝟏𝟓, 𝟐𝟎𝟐𝟐
Following the press release issued on March 12, 2022, further relaxations are being announced in keeping with the cautious transition to the new phase of COVID-19 management.
The trend over the days have been encouraging with most individuals choosing to remain indoors, despite relaxation within zones in Thimphu. Similar pattern was observed across the districts with community cases. This merited reconsidering the relaxation beyond the zone, without having to adhere to the earlier timeline.
As an update, the nationwide hospitalisation rate today is 0.18 percent.
The following notice, applicable to Thimphu and other districts at similar relaxation phase, will come into effect from March 16, 2022.
1. Movement of individuals within the respective mega-zone is allowed. No private cars are permitted for now.
2. Except for the entertainment centers, all business entities, including snooker and video game parlors can operate. Restaurants with take-away and delivery services can open.
3. For shop owners residing in different mega-zones, please apply for one time e-pass that can be used for commuting to one's shop daily.
4. Taxis can operate within the mega-zone. However, it is allowed to ferry only people of same cohort (family members, friends or colleagues) and are not allowed to pick up other passengers along the way. With this, passengers are also reminded to refrain from travelling with strangers in the same taxi.
5. Taxis may crossover to other mega-zones for passengers with emergency reasons such as medical, death and vaccination purposes. While e-pass is not required, convincing evidence like medical documents have to be produced upon inquiry by the police or De-Suup on duty.
6. The RT-PCR validity for the drivers of all goods carriers, including trucks and all other utility vehicles, will be increased from seven to 14 days.
7. All businesses must close at 7pm.
Meanwhile, further announcements will be made depending on the ground situation over the coming days, irrespective of the timeline issued earlier.
As the nation graduates into the second phase of COVID-19 management, with more focus on symptomatic cases and hospitalisation rates, we would like to reiterate here that our priority remains in saving every life from the disease.
The process has begun, and we urge every single Bhutanese to support us in successfully overcoming the critical period. Please wear masks, avoid gathering and follow all the norms that help us and our families from contracting the disease.