February 22, 2022
Posted by:

admin

Category:

Notice, Press Releases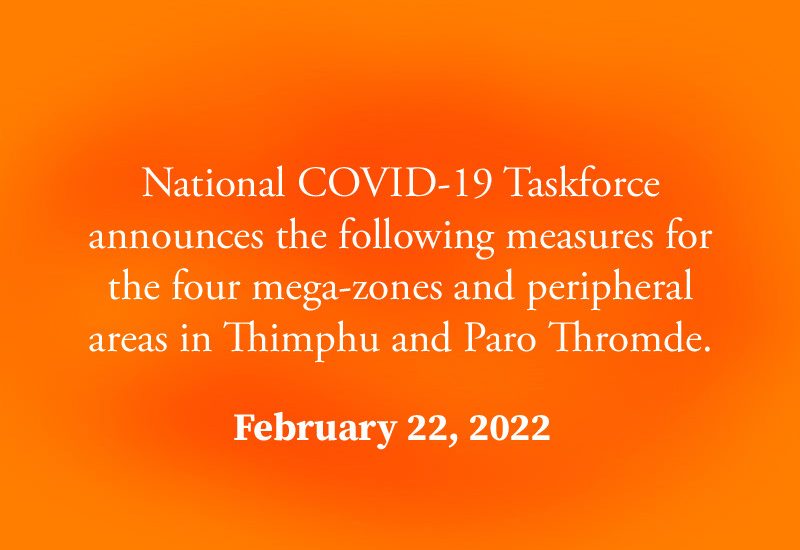 𝐏𝐫𝐞𝐬𝐬 𝐫𝐞𝐥𝐞𝐚𝐬𝐞
𝐅𝐞𝐛𝐫𝐮𝐚𝐫𝐲 𝟐𝟐, 𝟐𝟎𝟐𝟐
With the emergence of more COVID-19 community cases, and considering the need to assess and contain the disease spread, the National COVID-19 Taskforce announces the following measures for 𝐭𝐡𝐞 𝐟𝐨𝐮𝐫 𝐦𝐞𝐠𝐚-𝐳𝐨𝐧𝐞𝐬 𝐚𝐧𝐝 𝐩𝐞𝐫𝐢𝐩𝐡𝐞𝐫𝐚𝐥 𝐚𝐫𝐞𝐚𝐬 𝐢𝐧 𝐓𝐡𝐢𝐦𝐩𝐡𝐮 𝐚𝐧𝐝 𝐏𝐚𝐫𝐨 𝐓𝐡𝐫𝐨𝐦𝐝𝐞.
1. Starting 5am tomorrow, February 23, 2022, movement will be restricted to respective zones only.
2. Only one person will be allowed to move within the zone as per the timing specified on the card. Vehicle movements are disallowed.
Zone time are as follows:
𝐌: 𝟖.𝟑𝟎𝐚𝐦- 𝟏𝟏𝐚𝐦
𝐀: 𝟏𝟏.𝟑𝟎𝐚𝐦- 𝟐𝐩𝐦
𝐄: 𝟐.𝟑𝟎𝐩𝐦- 𝟓𝐩𝐦
3. For today, individuals can travel out of the areas mentioned above with antigen test. However, all travels from tomorrow will require RT-PCR test.
4. All routine travels will be facilitated, including public transports. Please register with 1010 to obtain e-pass.
5. For testing availability, a separate announcement will be made by the Ministry of Health.
6. All those exiting the areas mentioned above must undergo one week "home quarantine" at the destination from tomorrow. Wherever possible, please come for test upon completion.
Those who are symptomatic must come forward for testing immediately. The Dzongkhag Incident Commanders must facilitate.
7. Offices and institutions will operate through the "work from home" mode.
8. All grocery shops in the zones can open as long as the owner resides within the same zone. Shops can open at 8am and close at 5pm.
9. Restaurants and entertainment centres will continue to remain closed.
10. Games and sports are disallowed.
11. Construction activities will be allowed within the premises. Factories can operate in containment mode.
12. Gathering of all sorts are not allowed.
13. Funeral rites must be maintained at a maximum of 20 people. Taking bodies out of Thimphu will be permitted but bringing in is disallowed.
14. Examinations for students will be conducted in the mega-zone format, as designed by the Ministry of Education.
15. Domestic and international flights will continue to operate.
16. 𝐓𝐡𝐞 𝐫𝐞𝐬𝐭𝐫𝐢𝐜𝐭𝐢𝐨𝐧𝐬 𝐰𝐢𝐥𝐥 𝐫𝐞𝐦𝐚𝐢𝐧 𝐮𝐧𝐭𝐢𝐥 𝐟𝐮𝐫𝐭𝐡𝐞𝐫 𝐧𝐨𝐭𝐢𝐜𝐞.
Meanwhile, the health ministry will continue with high-risk cluster testings. The reopening will strictly depend on the epidemiological scenario. For that, the National Taskforce seeks cooperation and support of the public to uphold all the COVID-19 protocols that will enable us to improve the situation and ease restrictions as soon as possible.